Design Trends that add "Sizzle" to your home
If you're looking to remodel or renovate your home in 2020, you've come to the right place.  Trends come onto the scene quickly, but they don't last forever. These popular home design styles are hot in 2020!  Pick your favorite and call us to update your home!
Accent Walls
Accent walls are all the rage this year. They come in all different colors and finishes – from dark black paint to white shiplap, and everything in between.  An accent wall is the perfect style update for a boring room.
---
Non-White Cabinets
Clean white cabinets have dominated all the popular Pinterest boards for years, but this trend is starting to fall out of grace with interior designers, and homeowners.
In 2020, more builders and remodelers are opting for darker and earthy tone cabinet finishes. Natural finishes like wood colors and neutral paints like grey and beige are gaining popularity as well.
---
Custom Ceiling Treatment
A great ceiling design, whether it is in the living room or the dining area, the kitchen or the bedroom, can give a room a unique and individual character that also leaves a lasting impression in the minds of those who step in.
---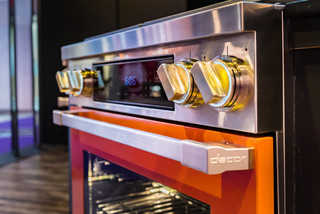 Custom Appliance Colors
Earlier this year, Dacor launched its DacorMatch Color System, which allows homeowners to get the company's Heritage ranges and wall ovens in any color they choose. That way the range can match a cabinet color or a backsplash tile mosaic, or even the color of a homeowner's favorite sweater.
---
Beverage Refrigerators
Beverage fridges are a popular feature in kitchens and game rooms because they allow guests or family members to grab a drink without disrupting the cook in the kitchen.
---
Walk-in Shower
Many homeowners want big showers that are easy to get into and out of. Converting the old tub shower combo into a beautiful walk-in shower will bring your bathroom into the new decade.
---
Free-standing Bathtubs
There's been a lot of debate over the years over whether you should keep a bathtub when remodeling your bathroom. But it's clear that those who enjoy taking baths really enjoy taking baths. Couple that with people spending more to increase the size of their bathrooms to create a spa-like environment and you've got some homeowners who aren't just keeping the tub, they're celebrating it.
---
What is your favorite? Let us remodel or renovate your home today! Contact us to get started.